Posted on:
Saturday January 10 in
Uncategorized
tagged by
Ronen
Due to the changing web environment, users' expectations towards how a website should behave have also increased. The web users of today require more entertainment, engagement and involvement. Parallax scrolling is a web design technique that is becoming increasingly popular nowadays. This is because parallax scrolling can help to invite users to engage and interact with your website. Read on for a list of why parallax scrolling is a key element in many websites today.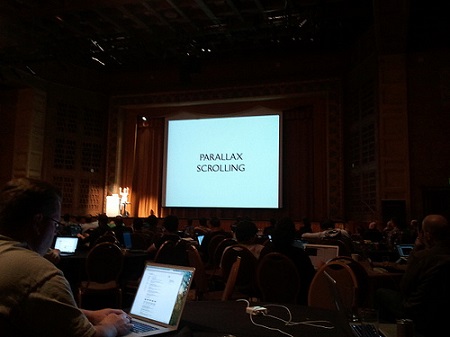 Improved product presentation
Gone are the days where visitors to your website can only have access to static, boring 2D web content. Parallax scrolling is a vivid and advantageous technique that you can employ for the presentation of your products. It allows users to interact with your website to explore the products that you have at their own time and initiative.
Experience your product in 3D
Parallax scrolling is a form of new advancement in technology that allows 3D presentation of your products. Simply place your products in the centre of the webpage with lots of whitespace so that it will draw all the attention of the users. At the same time, the users can scroll and control the viewing of your products according to their preference or liking.
Let your visitors travel through time
Parallax scrolling can be used as a framework for a visual and fun story-telling presentation of a company's history. Instead of the usual action of scrolling down, visitors to the website can start at the bottom instead at the birth of the company. When users scroll upwards, they can launch a space shuttle or rocket and let it fly through the various events or milestones in the history of the company.
Make your website visually appealing and special in order to stand out from the crowd
Using parallax scrolling in your website design can help to give your site a very unique feel and look that is visually appealing. Besides building your website around an interesting story that will draw visitors to interact with your website, parallax scrolling can help make your website special and stand out from the crowd. For example, you can design an unexpected but fun experience for the visitors where the user will engaged in a never ending, seamless scrolling cycle – reach bottom of page then go back to top again and again.
Design your website on the interaction for a special experience
If you want to design your website using interaction to create a special experience for your users, you may want to build your website design riding atop the parallax scrolling effect. This means that you should tie your design with your visitors' engagement to create the website itself. For example, you may wish to use an appealing but typography-heavy design concept for your website. The website will then start to build up word by word while the user scrolls down the page. With the parallax scrolling effect, the visitors to your website will end up with an incomparable experience despite looking the same as other plain sites at the end of it.
Animate your background to add some fun to your website design
Parallax scrolling effects can be included in your website design in a more subtle manner such as to animate the background of the page. As the user scroll down on your website, the animated background can move accordingly in a very fun and appealing way. Animation can help to bring up the liveliness of your website and adds that little something extra to makes your website more special.
If you want to be hands-on and apply parallax scrolling to your website yourself, there are bountiful of resources online as well as in libraries that will guide you through step by step. If you prefer to leave the work to the professionals, you can enquire with us at BA Consulting. We are a Microsoft Certified Company that offers a full range of computer services and solutions!