Remote Desktop Services

Remote Technical Support via Single Web Application.

Access

Networking & Wireless

Cloud computing

Access

On-Site Technical Support

Technical Support Professionals.

Access
Posted on:
Saturday December 13 in
Uncategorized
tagged by
wisdek
No business environment is without errors, irrespective of the company's field or size. However, when the IT department implements a major project that fails to produce the expected results and bring the company the much touted benefits, executive and stakeholder patience is exhausted fairly quickly. A number of explanations for the lack of success of an IT project can be found, ranging from lack of preparation or planning as well as exceeding the resources (financial or otherwise) that the company can afford to allocate. Let's examine five of the most frequently encountered grounds for failure.
1. Integrating technology that's cool, but ultimately unnecessary
With the advent of numerous technologies that appear to simplify our lives and the business environment, it's relatively easy to go overboard. In other words, you could be persuaded by the shiny new features and complex algorithms, and fail to see the fact that a certain project just doesn't have a place within your company.
When you decide whether or not a certain technology should be implemented, don't get sidetracked. Always ask yourself why it would be useful and how it could benefit your business, in a strictly objective manner.
2. Commencing the project before the planning phase is finalized
Your IT department may pressure you into accepting their project and starting the implementation ASAP, either because they fail to see the whole picture or because they're 'drunk' on past successes. They tend to work under the assumption that virtually every issue that arises can be solved by throwing more technology at it. Unfortunately, this category of practices is not only ineffective financially, but stands to have potentially disastrous consequences for your operations.
When you don't draw a strict set of rules and guidelines and plan for every foreseeable outcome, you're bound to run into problems in the implementation phase. It's like going fishing without knowing where the lake is.
3. Failing to establish limitations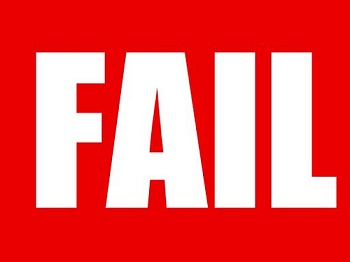 Without a doubt, all IT projects are liable to a number of changes and additions that would improve its functionality to various extents. However, continuing to perform alterations and adding features without any restrictions, rather than focusing on the core concept inevitably leads to missed deadlines and growing expenditures. Furthermore, those features might not even be useful in the greater order of things.
4. Refusing to pull the plug on a doomed project
Similarly to a poker player who continues to increase his bids in an attempt to recuperate his losses, some managers continue to fund IT projects that are evidently doomed. In other words, because they have already invested significant company resources, pulling the plug seems like a mistake. However, it's always better to monitor the project in various stages and evaluate the effectiveness and feasibility than to persist in error despite the evidently negative outcome. Set milestones and goals for each of them, and you'll be able to achieve a clear picture of how well the project is doing.
5. Calculating the ROIs wrongly and overestimating the lifespan of the solution
All IT projects should be evaluated based on their ROI, and this is particularly true when the anticipated expenditure is limited whereas the benefits are presumed to be spectacular. What may initially appear as low cost or even free could come with unexpected piling costs later on that render the whole affair counterproductive.
Finally, don't forget to plan the strategy for the final days of the IT solution you intend to implement. As the project progresses, you will be faced with numerous requests for additions, tweaking, updates and maintenance expenses. There is a threshold after which it would be better to implement a new solution rather than pour vast amounts of resources into up-keeping the current one. To avoid failure, it will also be best to go for IT consulting services so that you will not waste time and money on IT solutions that will not work for your business.
Access
BA Consulting of Toronto and the GTA is a Microsoft Certified Company that offers a full range of computer services and solutions to small and medium-sized companies and individuals.
We are here to facilitate the day to day running and growing of your business by taking over the burden of all your computing, internet and IT concerns so that you can focus on doing what you do best – generating revenue.
You are probably very good at the work you do, but it takes up most of your time and energy which means there is not a lot left over for getting to grips with the fast changing world of computers, social and internet media and information technology in general.
This is where Toronto's BA Consulting can become your back-room partner because we do have the experts who fully understand and keep abreast of the latest IT technology. And we are here to share our specialist knowledge with you.
At BA Consulting we offer both one-off solutions and monthly maintenance plans so you only have to pay for the services you actually use.
Turn over some or all of your computing concerns to us and we will be able to offer 24-hours-a-day support to:
Set up your system and network right from the start so that you operate immediately with maximum efficiency.
Keep your On-site computer and IT systems running smoothly at all times by fixing computer glitches and keeping you systems working as they should so that you don't face unnecessary down town because of unexpected computer failure or system crashes.
Create and/or expand your in-house computer Network and Interconnected Wireless internet access so that you can monitor all of your employees and keep track of their performance at all times.
Repair your computers whenever they go down.
Remove Malware, Viruses, Spyware and other computer afflictions whenever they may strike.
Hardware and software sales and support
Create secure and reliable back up so that you don't need to worry about Data Recovery if ever your system crashes.
Building and maintaining complex networks
Design dynamic web – and social media sites and 'tweak' them regularly (this is known as SEO) so that you perform well in Google and other search engine ratings.
Set up secure Remote Access and Virtual Cloud Storage so you can access your company data wherever there is internet signal, even when you are on the road.
Create secure and reliable Security Solutions to that your company and client data and personal details safe from abuse.
Set-up and manage other Virtualization and Managed services and Hosted Solution as appropriate for your business or personal needs.
Create a Video Surveillance system or improved on-site security.
OfferIP / VoIP Communication solutions to maximize your internet performance.
Assist you with re-installing your computers and getting your systems back up and running effectively during Office Relocation
Computer Repair
Recommend hard- and software upgrades whenever new and appropriate technology becomes available.
Set-up, create and manage your digital signage network and other digital advertising throughout the Toronto region.
Who are our typical clients?
BA Consulting of Toronto has worked with a wide range of clients from numerous walks of life and small and medium-sized businesses. The vast majority of our clients want to:
Improve their productivity
Reduce their costs
Streamline their processes
Consolidate all IT issues under a single umbrella
Maximise the efficiency of their networks and software
Free up time for employees to focus on revenue-generating activities
When we consult for you, we will be able to apply exactly the right mix of computing services to get your business working efficiently and in an integrated manner.
You only pay for the services and software you actually use, so we can actually save you money!
And best of all, our customized services are available 24/7/365 so you can work when you want, where you want, at any time, and know that we will always be there to assist if ever your computers and IT systems don't perform as you would wish.
We always answer every customer enquiry with a live attendant so that we can immediately address the issue that is concerning you, without your having to hold the line…
For more information about BA Consulting of Toronto and our professional computer repairs and IT services and problem resolutions, please:
Contact us online or Call (647) 401-8646.
BA Consulting of Toronto – we have the knowledge and fluency with all computer and IT issues to be able to provide exceptional, pro-active service to solve all your computer hardware, software and other IT needs.